ABOUT THE CAMBRIDGE & DISTRICTS PIPE BAND.

Since before WWII there has been a Pipe Band in Cambridge.
In those early days the band was associated with the Cambridge Caledonian Society which no longer exists.
During WWII the band went into recess but was restarted in 1947. When it reformed the band took the current name.
The three to four decades following WWII were the heyday period for Pipe Bands when almost every significant town in the Waikato, Bay of Plenty and King Country had a pipe band. Waihi, Tauranga (3), Te Puke, Whakatane, Rotorua, Taupo, Paeroa/Te Aroha, Matamata,Tokoroa/Putaruru, Taumarunui, Te Kuiti, Otorohanga, Te Awamutu, Raglan, Huntly, Ngaruawahia, Morrinsville, Cambridge, and Hamilton (2).
Some remain. Thames Valley (Paeroa), Tauranga, Te Puke, Rotorua, Te Kuiti, Te Awamutu, Raglan, Hamilton and Cambridge.


Learn to play the Bagpipes or the Drums with the Cambridge & Districts Pipe Band:

The Cambridge & Districts Pipe Band performed at numerous competitions, A&P Shows, community events and parades. To-day the band is less competition oriented and A&P Shows are less important as fewer people work in agriculture. However the band still fulfills an important community role. We are always present on ANZAC Day Parade and at the Armistice Remembrance Day ceremony. We perform monthly during every Lions' Trash and Treasure Market Day – weather permitting, and pay regular Christmas visits to old folks homes in our district. Parades like those for returning Olympians and sporting Champions are another type of event the band adds colour and ceremony to.
Our band provides a healthy challenging past-time. The challenge of mastering one of the oldest types of musical instruments is still taken up by interested people of all ages.
Cambridge is a rural services town 21 km to the ESE of Hamilton city. Located at the farthest navigable upriver position on the Waikato River (NZ's longest river) it was settled early in NZ's settlement days. The town is characterised by many mature trees such as oaks and planes, and redwoods. It has a grassed "village" square surrounded by mature trees, with plenty of parkland and facilities. The town centre retains a village atmosphere and the district is one of the main NZ equestrian centres.

Band practice night: Thursday evenings, 7.30pm-9.30pm

Location: Cambridge Municipal band rooms, Vogel Park, Vogel St.

Tuition: is available for learning the bagpipes, and drums.

Contacts: See contact details at the bottom of this page.

A late '80's photo Leading the ANZAC Day Parade


Right: A photo taken outside the band rooms we share with the Cambridge Municipal Band.
The tunes
we play
Though not currently an actively competing pipe band we are currently regaining strength. We have a more social playing agenda. Our primary playout is a regular monthly (2nd Sunday of each month) playout on the Cambridge Lion's Market Day. We have now performed at this so regularly that our contribution is part of the market day culture. We also play at old folks homes around Cambridge and are prominently involved with ANZAC Day and the Cambridge Armistice Remembrance Day Parade each year. We actively support and participate in Clan Gatherings around the Waikato region and take part in Tattoos and also the informal competitions held in various towns. A film involvement (Nov.2000).

If you're in the Waikato, like browsing through market stalls and enjoy pipe music, why not make a visit to the Cambridge Lion's Market Day (2nd Sunday each month 9am - 1pm). The band plays between 10.30 am and noon.
The band also gets involved with impromtu community parades for various Cambridge entities that do so well in sporting activities. In September 2004 the band, along with a couple of guest drummers, lead the Cambridge welcoming parade for the three Gold Medal Olympians who are based locally. The Evers-Swindell twin sisters who won Gold for rowing, and Sarah Ulmer who won Gold in cycling. This was a mid-week middle of the day parade and the band was well supported by members taking time off work. This was an exceptional occasion and the band is grateful to members and their employers, for the support given. More recently the band also fielded a strong show for the returning 2008 Olympians parade. More medals to the regions sporting efforts. Our region does well.

The Clan Gatherings are basically an afternoon get to gether of folk from various Scottish Clans. One Clan (or a startup Clan group of a Clan not previously present in the Waikato / Bay Of Plenty / King Country region) acts as the host Clan. The day starts with a parade of Clans and tartans, lead by any piper's and drummers present. The Jacobite period group Clan Alba parade in old sttyle gear and conduct a mock battle and demonstrate a highland charge. Folk then move indoors and Clan representatives present are piped into the assembly. When all are presented each Clan representative gives a brief overview of their activities or Clan history. Then there are a number of items of a Scottish cultural nature. These are performed by anyone (or group) who is present (planned and impromtu) or has been invited along specifically to perform. These vary from singing, music (piping, fiddle, accordian, whistles, bodran, harp etc), highland and country and set dancin. People are encouraged to participate but if sitting and watching is your interest, that's fine too.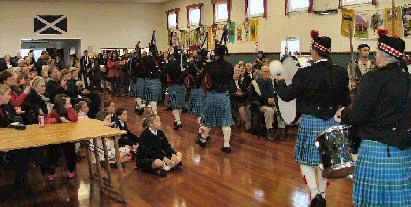 Wallace Clan Gathering, Te Aroha, City of Manukau Pipes and Drums march out.


The gatherings have an aim of fostering interest as well as participation. There is usually a haggis ceremony and the haggis forms as entree to lunch. Usually this is a bring a plate pot luck affair and there never has been any shortage of food. Gathering hosted by Clan Wallace in Te Aroha on September 25th. The band joined with the Manukau City Pipes and Drums (who were attired in their new Blue Wallace kilts) and lead the parade through the town. The Cambridge band played a mini-band item and the Pipe-Major played for highland dancing, remembrance of old friends and for some of the ceilidh dancing.
The Cambridge Pipe band believes in being part of a healthy Celtic /Scottish community not just a mono-cultural Pipe Band movement. We encourage members to participate in piping for dancing (ceilidh or Highland styles), solo competitions (especially for our growing group of younger pipers and drummers) and other situations in the broader aspects of community.

More pipers and drummers (experienced and learners) are welcome. Not so long ago we were too few in numbers. This has been reversed and we now have a growing group enjoying the style of activities we are involved with. We would certainly welcome more members and hope the trend augers well for the band's future.
Anyone wanting to join the band will be made most welcome. If you would like to learn the pipes or drums the band can organise tuition.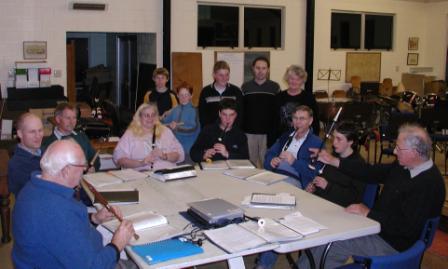 Members of the band participating at one of our workshops.


As the need arises the band runs weekend workshops using the services of tutors from outside the region. For example Bill Robertson (piping instructor) and Glenn Rodgers (Drumming), from Auckland.

Contacts:
Bryan Mitchell, Pipe-Major, Ph. (07) 870 5242 or email to kilts@xtra.co.nz
Jim Kerr, President, 15 Vogel St., Cambridge. Ph (07) 827 7259

The band wears the Seaforth MacKenzie tartan. Full uniform includes full tunic, kilt, plaid, sword belt, waist belt, horse hair sporran, half hose and spats, with headwear a Glengarry or full bonnet. Alternative full uniform changes spats and half hose for navy hose and shoe buckles and Glengarry. Most often we wear black Craill jackets (when temperatures are comfortable to do so) , white shirt and Mackenzie tie and the navy hose with shoe buckles, or cream/off-white hose with ghillie brogue shoes. A black leather sporran is used normally. The horse hair sporran is only used with full miltiary style uniform, half hose and spats..



In #2 full uniform. Some members relaxing after an ANZAC Day Parade

In #1 full uniform. Leading Cambridge RSA and other organisations for an ANZAC Day parade
If you're interested in pipe-bands and piping in New Zealand, on our 2nd link page are other pipe-band sites that may interest you. Some of these have links to military history and regimental sites. Take a quick look at what's on all the link pages before you leave on another trail. Enjoy your browsing.
French Connections. (France / Francais)
Breton BAGAD. Have you ever heard of Breton Pipe Bands called 'Bagad'?
French Scottish Pipe Bands.
Bagad are not the only pipe bands in France. There are many Scottish style pipe bands also. One established in Pornic,
Loire-Atlantique, is called the 'Mary Queen of Scots Pipe Band' with a web-site entitled D-Day Pipers
Another web-site is that of the Paris & Districts Pipe Band.
C&DPB Band Contacts:
President: Jim Kerr, 15 Vogel St, Cambridge (07) 827 7259
Secretary: Jo Smith, 3 Maranantha Way, Cambridge
Pipe-Major: Bryan Mitchell Ph. (07)870 5242 kilts@xtra.co.nz