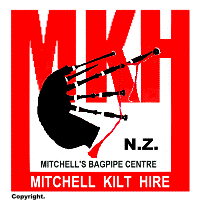 A Bagpiper, Bagpipe Player, Wedding Piper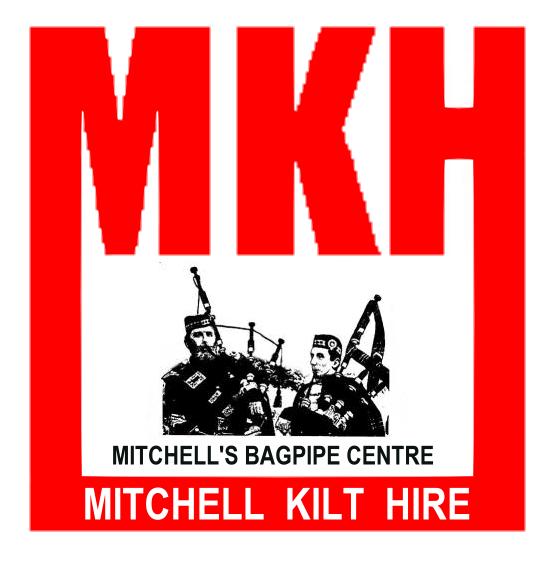 or Solo / Lone Piper for any occasion
New Zealand weddings, functions, funerals and events.
from Mitchell Kilt Hire and Highland Wedding Pipers
in conjunction with Mitchell's Bagpipe Centre.
A New Zealand Bagpiper for any occasion, almost anywhere.
Contacts for most places in NZ.
Whether you refer to a performer playing the bagpipes as;
a piper, a bagpiper, a bagpipe player, a wedding piper, a funeral piper or a ceremonial piper
E-mail your inquiry for a piper to Bryan Mitchell. The specialist piper for Weddings, Formal occasions, Funerals etc..

Brief background:
Have bagpipes, love to play, love to travel and have done so to places like... Scotland, Orkney, Shetland, Faroe Is., Iceland, Canada, U.S.A., Bermuda, Jamaica, Panama, Tahiti, Norfolk Is., Tasmania, Australia, New Zealand (N.I., S.I., Gt.Barrier), Hungary, Czech Republic, Slovak Republic, Austria, Germany, France, Denmark, England, Ireland, Nn Ireland, Wales. Across the oceans - Pacific and Atlantic.


| | | | | | | | | |
| --- | --- | --- | --- | --- | --- | --- | --- | --- |
| Cambridge.  | Tauranga.  | Raglan. | National Pk.  | Cambridge.  | Tirau.  | Hamilton.  | Pornic, France.  | Te Rapa.  |
| | | | | | | | | | | |
| --- | --- | --- | --- | --- | --- | --- | --- | --- | --- | --- |
| Budapest.  | Danube.  | Bratislava. | Bavaria.  | Salzburg.  | Brittany.  | Le Pouldu, Fr.  | Shetland.  | Dublin.  | St.Andrews.  | Re-Enactment.  |

Extensive experience.

Bryan has the experience and knowledge to play bagpipes at a wide variety of functions: Receptions, Weddings, Funerals, Civic and Ceremonial occasions, Ceilidh dances, Highland Dancing, Anniversaries, Remembrance parades, Corporate functions and more.

Having played the bagpipes since 1962, and been a Pipe-Major since 1987, Bryan has played in more than 22 countries. At private functions, at formal and informal occasions; wedding funerals, civic, cultural events and for the dancing at numerous ceilidhs, highland dancing competitions, A&P Shows and demonstrations, and has been a solo piping competitor as well as played in Pipe band competitions and tattoos. Piping locations have been very diverse for many different reasons.

Bryan can play Scottish tunes, or Irish tunes exclusively or play a selection combining tunes from either plus tunes from other sources. Tunes can be specially written, or transcribed from other genre (within reason). Tunes can also be played on the Highland Small-pipes.


Choice of tartans.

If you want the piper attired in a Scottish tartan kilt, or an Irish kilt or a Welsh cilt, you only need to ask; we have them. Kilts can be personal tartans or even from our hire range.

Choice of different Highland dress styles.

MKH / Bryan can perform attired in full No.1 Highland Regimental dress (military regalia) in winter & cooler weather, or in feilidhmhor or feilidhbeag kilted attire in styles including various plaid and jacket combinations.(refer to the small photo images above).

Choice of different Locations.

Anywhere in the North Island within reason and within your budget, even at sea.
Bryan can perform in most locations in the North Island, but beyond a 30km radius of Cambridge / Hamilton extra time and travel costs will apply. Bryan has played in many places for weddings; aboard charter boats in the Hauraki Gulf, on hillsides, at beaches, parks, gardens, farms, lakesides, churches, halls, mountains, grand mansions, civic centres, theatres, hideaway lodges, chapels, cathedrals, temples, public and private locations. Almost anywhere is possible - Even places like France and Scotland on rare occasions.



Bryan, at the Tetoto Gorge, a sea breached volcanic caldera on the western side of Mt Karori near Raglan.

Amidst the Ling heather in National Park.
We cover piping engagements throughout the Waikato, BOP, King Country, Sth.Auckland, & and Auckland

Bryan, piping for a wedding in St.Andrews, Scotland.

E-mail your inquiry for a piper to Bryan Mitchell.
The specialist piper for Weddings, Formal occasions, Funerals etc..

Scottish and Irish
tunes
for a wide range of functions.
Weddings
, Anniversaries, Birthdays, Events, Conferences, Highland & Ceilidh Dancing, Funerals etc......
We can dress for the occasion.
If you have special tune requirements, we will respond, even if we have to search out or transcribe the music.


Tips on Using a Piper at a wedding in NZ. Learn about The role of a Piper in NZ.

Pipers in Other areas? Try our other piper lists
---
Interested in learning to play the bagpipes? Source your practice chanter and music from Mitchell's Bagpipe Centre.
Need to know who teaches in your area. Ask. (Teachers/Tutors ~ register (free)).

Looking for Bagpipe Music software ~ visit the Baked Bean Company site and test their "Electric-pipes" package. Recommended.
RNZ Pipeband Assn. http://www.nzpipebands.org.nz/
Programme of events in the RNZPB Assn calendar, National Other Links Page No.3
Programme of events in the RNZPB Assn calendar, Central North Island Centre
NZ Pipe Bands with a web location. Other Links Page No.3
NZ Schools with Pipe-Bands. Other Links Page No.3
NZ Piping and Dancing Assn. Other Links Page No.1
---
Return to Wedding information page
Do you play for Weddings and other functions? You too can be included in our lists. Enquire.
If you contact any pipers as a result of finding them here, please advise them where the contact originated.
North Island:

HAMILTON/CAMBRIDGE/WAIKATO: Bryan Mitchell, Ph (07) 870 5242 P/Mjr. C&DPB,, Enquiry/Bookings kilts@xtra.co.nz
also Waikato/BOP/Sth.Auckland/Coromandel,<kilts@xtra.co.nz>

OTOROHANGA / Te AWAMUTU / WAIPA / TOKOROA / PUTARURU / MATAMATA / MORRINSVILLE: Bryan Mitchell, 07 870 5242 P/Mjr. C&DPB kilts@xtra.co.nz
KAIWAKA/MANGAWHAI: Barry Wallace, < pipeywallace@xtra.co.nz
AUCKLAND: Robert Halliday, halliday.robert@gmail.com
HAWKESBAY / HAVELOCK NTH: Bill Menzies, Ph (06) 877 6848
HAWKESBAY / NAPIER: Graeme Blank, Ph.(06) 8437 233. <shona.graeme@gmail.com>
MASTERTON/Wairarapa: Barry French, Ph. (06) 378 2025 french@wise.net.nz,
TAUPO: Eric Foley, Ph. (07) 378 7006 tfoley@jabiru.co.nz,

South Island:

CHRISTCHURCH: Stuart Wood, (03)338 7163 (cell) 021 137 4004, stuart.thepiper@gmail.com Stuart's web-site
CHRISTCHURCH: Chad Reid c/-, paulette.r@xtra.co.nz
CHRISTCHURCH: Harry & Jamie Hawke, Harry 0273121419 of Jamie 0276342243, Harry or Jamie Hawke
DUNEDIN: Kirsty McLeod, (021) 66 3940 or (03) 467 1989, Kirsty.McLeod
DUNEDIN: Lance Turnbull, (03) 479 6557
DUNEDIN: Victoria Murgatroyd, pipergirl@es.co.nz,
MARLBOROUGH: Celia Renfrew, (03) 578 3077
MOSGIEL: Lee Hart, leehart@ihug.co.nz
RANGIORA: Phillip Bell, phil.bell@xtra.co.nz
QUEENSTOWN: Graeme Glass, glass@queenstown.co.nz
QUEENSTOWN: Keith Cameron, keithacam@hotmail.com


Irish Uillean pipes:
The New Zealand Uillean Piper's Association can provide contact details for a Uillean piper in your region.
Wellington contact is Charles O'Hara-Smith (04) 971 0078
Auckland contact is Marianne Hepple (09) 627 2386
Another Auckland contact is Terry Carrol, in Papakura, Sth. Auckland. (09)298 7609
NB. Uillean pipes cannot be played whilst on the move (ie walking or marching). If you're after movement and Irish pipe-music for weddings and various functions you may need a Highland or Irish War-pipe piper who plays Irish tunes and can wear an Irish kilt and accessories. Especially if a piper is required to lead a bride or dignitary/guest. For situations where Irish pipe-music from a static position is required a Uillean piper may be just the ticket. If you require both styles of piping at the same function and you're in Auckland, talk to Terry Carrol (09)298 7609
Highland Small-pipes.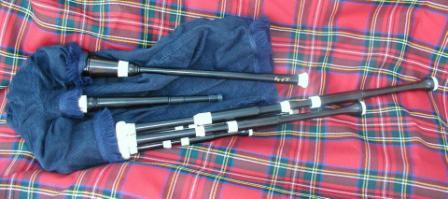 If you want the quieter and mellow sound of the Highland small-pipes for your function contact. Bryan Mitchell
Northumbrian pipers: Contact is Robyn Park mfpark@xtra.co.nz
Engerlander/Bohemian Dudy piper: Contact is Ian Whyman, Thames. or C. Krippner, Ngahinapouri
Spanish Gaita piper: Greg Hodges hodgel@igrin.co.nz Whangarei
If you contact any pipers as a result of finding them here, please advise them where the contact originated.
Return to Wedding information page

Canada:
Ontario, Thunder Bay: Tom Yule, tyule@tbcdsb.on.ca
United Kingdom:
Scotia Pipers, 110 Park Road, Kirkcaldy, Fife, SCOTLAND KY1 3EP. Website E-mail
Return to Wedding information page
If you contact any pipers as a result of finding them here, please advise them where the contact originated.
This page is updated as information becomes available