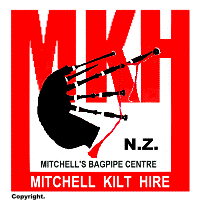 Mitchell Kilt Hire and Highland Wedding Pipers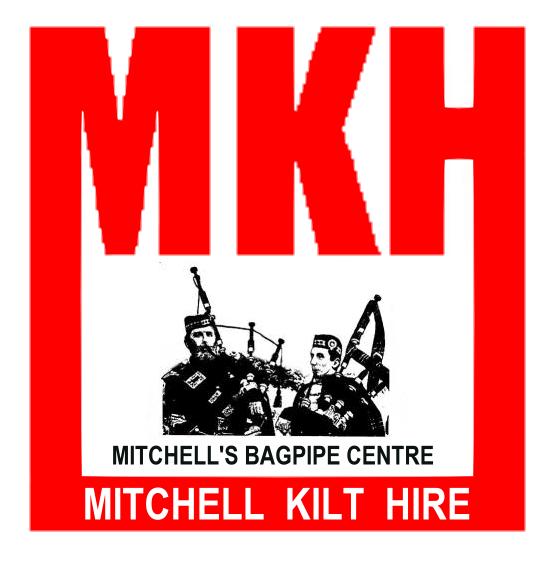 Bagpipe tunes and Wedding Tunes
There are many, many bagpipe tunes suitable for playing at weddings.
A few stand out for traditional reasons. In our area the following are requested most often.
Mairi's Wedding, Highland Wedding, Amazing Grace, Scotland the Brave,
Mull of Kintyre, My Love is but a Lassie yet.
The playing of tunes that people recognise is important. To people unfamiliar with bagpipe music, many tunes may initially sound indistinguishable. Conscious changes in tempo, key and rythym help people to distinguish you're playing a selection of tunes. Esoteric piping tunes are generally avoided in favour of those most likely to be known by non-pipers.
We also try to find out tunes likely to have significance to parents or grand-parents, or special relatives or guests. We often "learn" tunes specifically for a wedding, even if it means transcribing them off a tape or CD if the tune cannot be found in a bagpipe music book or on a recording. A tune can even be composed for your wedding.
The following lists are just a few tunes, to help you think about what to select. I also suggest people listen to a few piping recordings to see if they recognise, or prefer any particular tunes. The couple is welcome to come and listen to tunes (played practice chanter and/or pipes) and to discuss what they want played for whichever part of the ceremony.




Scottish Tunes

All the Blue Bonnets are over the Border ~ March
Amazing Grace ~ Slow Air / Hymn
As the Deer pants for water ~ Air / Hymn
Black Velvet Band, The ~ Air
Blue Bells of Scotland ~ March
Bonny Dundee ~ March
Bonny Lass of Fyvie ~ March
Brown Haired Maiden ~ March
Cailin mo Ruin-sa (The Maid I adore) ~ Air
Cock O' the North ~ March
Comin' thro' the Rye ~ March
Corriechoillies' Welcome ~ March
Echo Lake ~ Air
Haste to the Wedding~ March
Heykens' Serenade ~ March
Highland Cathedral ~ Air
Highland Laddie ~ March
Highland Wedding ~ March
Lord of the Dance ~ March
Mairi's Wedding ~ March
Maggie ~ Air
Meeting of the Waters ~ March
Mingulay Boat Song ~ Air
Mrs Scott Skinner ~ March
Mull of Kintyre ~ Air
Murdo's Wedding ~ March
My Love is but a Lassie Yet ~ March
O Flower of Scotland ~ Air
O Joy to the World ~ Air / Hymn
Ode to Joy ~ Air / Hymn
Old Rustic Bridge ~ March
Rab's Wedding ~ March
Road to the Isles ~ March
Scotland the Brave ~ March
Skye Boat Song ~ Air
Sweet Maid of Glendaruel ~ March
Swing of the Kilt ~ March
Teribus O' Terioden ~ March
Tiree Love Song ~ Air
Westering Home ~ Air
Whistle o' the Lave O't ~ March
Wi' a Hundred Pipers ~ March
Wooed and a married a' ~ March


Irish Tunes

A Quarter to Four/Anika's visit home (Jig)(NZ)
Back to Donegal, (6/8 March)
Banjo Breakdown (Jig)
Black Bird, The /Liverpool Hornpipe (Hornpipe)
Black Velvet Band, The (6/8)
Brian Boru's March to Clontarf (March)
Danny Boy (4/4 Air)
Fields of Athenree (Air)
For Ireland I'd not tell her name (6/8 Air)
Garry Owen (6/8 March)
Green Hills of Antrim, The (12/8 Slow Air)
Greenwoodside, The (2/4)
Irish Washerwoman, The (Jig)
Last Rose of Summer, The (Air)
Leaving of Liverpool, The (4/4 March)
Maggie (2/4)
March Down the Aisle (4/4 March)
Minstrel Boy, The (Air)
Oft in the Stilly Night (Jig)
Oh Dear what can the matter be (6/8)
Paddy's Leather Breeches (Jig)
Paddy McGinty's Goat (Hornpipe)
Paddy O'Rafferty (Jig)
Paddy Wack (Jig)
Rakes of Marlowe (2/4)
Rose of Tralee (6/8 Air)
Spanish Lady (2/4 Air)
Star of County Down (Air)
Sweet Molly Malone/In Dublin's Fair City (Air)
Those Endearing Young Charms (Air/ Waltz)
Waltzing Matilda (Aust/Irish) (2/4)
When Irish Eyes Are Smiling (6/8 Air)
When Johnny comes Marching Home (6/8 March)

plus many others....

Such as those listed on the
.. Cambridge & Districts Pipe Band tune list
See also B. Mitchell, Piper and others around NZ.
| | |
| --- | --- |
| And many other tunes ( Airs, Marches, Strathspeys, Reels, Jigs, Hornpipes).... Including other Irish tunes. | The Wedding March, ''Here Comes the Bride'' is not a pipe tune, but the first part of the tune can be played and is recogniseable. If used, this is usually played only as an introduction to a more traditional tune. |
Hear Bagpipe Tunes on the net....option coming...