NZ

(NZ Pipe Bands)
Central North Island
Centre Inc. RNZPBA.
an Unofficial information page sponsored by MKH.

R.N.Z.P.B.A. Inc.

The Central North Island Centre of the Royal New Zealand Pipe Band Assn. Inc. serves affiliated Pipe bands within the South Auckland, Coromandel, Waikato, King Country, Bay of Plenty, East Cape and Central Plateau regions of the central North Island of New Zealand.
| | |
| --- | --- |
| New Zealand | This is the region covered by the Central North Island Centre of the Royal New Zealand Pipebands Assn.. Inc |

More pipers and drummers (experienced and learners) are needed by all pipe-bands in the region. Especially the towns and districts outside Hamilton.
Youth Band.
The centre organises inter-pipeband competitions for the region and fosters improvement in the general standard piping and drumming. To this end it runs "school' camps for young pipers and drummers from throughout the region in the form of a "Youth Band". This band is for persons up to the age of 18. Because the Youth Band is made up from members of the regions pipebands it has improved the social interaction between all bands in the region. The band puts on performances in different towns within the region and promotes the pipeband culture very well. Visit the youth band's web-site: www.cniypb.get.to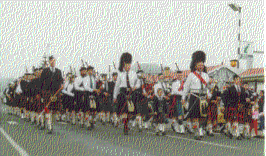 Centre bands visit the township of Te Kuiti
Pipe-bands in the Central North Island region.
Below is a list. Those with an "A" are affiliated with the centre. The number in brackets is the current grading of the band. The other bands generally have too few members and are not competition bands, or are in temporary recess.
Underlined band names have an associated web-page link.
Calendar of events for Central North Island centre, RNZPBA.

(page is updated as dates come to hand)
January
April

July
Youth.Band camp.
October
Last weekend. Hamilton, Waikato A&P Royal Show.
February
Paeroa Tattoo & Highland Games.
Feb. Sat......th. Centre Contest.
May
AGM.
August
Tauranga Square Day
November Hamilton Gardens Competition 21/11
March
The


Tauranga Highland Games.(Bi-annual)
June
..



September

December
Contact addresses for the Central N.I. Centre RNZPBA.
President: Malcolm Irving, 277 Matangi Road, R.D.4., Hamilton 3284. Ph. (07) 856 9721. E-mail: mirving@xtra.co.nz
Secretary: Mrs Carol.Thomson, 5 Torbin Place, Golden sands, Papamoa 3118, Telephone: (07) 542 4247. E-mail: crthomson69@xtra.co.nz
Youth band Co-ordinator: Mrs. Maureen Lewis, 1406 Cameron Road, Tauranga. Ph (07) 541-0532
e-mail: pjmflewis@xtra.co.nz
---
NZ Pipebands in general:
If you're interested in other pipe-bands and piping in New Zealand; on Mitchell Kilt Hire's 2nd link page you will find links to other NZ pipe-band sites that may interest you. Some of these have links to military history and regimental sites. Take a quick look at what's on all the link pages before you leave on another trail. Enjoy your browsing.