Bagpipe ~ Sales & Service


MITCHELL'S BAGPIPE CENTRE
(Mitchell's Bagpipe Centre, c/- Unicorns n Pheasants, 17 Empire St., Cambridge 3434, New Zealand. Ph (07) 827 6906 E-mail
Bagpipe Practice Chanters
by Warmac, Wallace, Shepherd, Dunbar and MacPherson
for our New Zealand customers.



Bagpipe Practice Chanters
for Beginners - through to experienced pipers, and children to adults.

(Mitchell's Bagpipe Centre, c/- Unicorns n Pheasants, 17 Empire St., Cambridge 3434, New Zealand. Ph (07) 827 6906 E-mail)
Quality Practice Chanters are available ex-stock.


Bagpipe Practice Chanter Reeds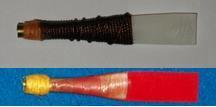 Always available.
The services of Mitchell's Bagpipe Centre, part of Mitchell Kilt Hire operations, are provided by Bryan Mitchell. Bryan is an active piper with 20+ years experience as a Pipe-Major in local pipe bands. In all, over 45 years piping experience with pipe bands, solo piping and commercial bagpiping. Practical experience and innovation (make it if possible, or convenient, time permitting) combined with a desire to see you get instruments you'll like to play. This drives a passion to help you get the best from bagpiping. As a bagpiper you get service and support from someone experienced, interested and concerned, not just a retail sales person providing a box of bits and pieces.

About Practice Chanters.
A practice chanter is a means to an end. All pipers learn on a practice chanter the fundamentals and techniques that enable them to play the highland bagpipes. It's not a true musical instrument but it can sound musical if tuned properly. As far as I am ware of, highland bagpipers are the only musicial performers that learn on one instrument to play another. The practice chanter is vital for the learning process and all life-time learning and practice of new tunes. I am aware that a highland piper in NZ made and introduced to the Dudy piping fraternity within the descendants of the NZ Bohemian Engerlander settlers, some practice chanters for them to use for learning the Bohemian Dudy. This was novel and as far as I know been very successful. Possibly it is a concept tthat has been passed back to the Engerlander piping community the their Bohemian/German/Czech homeland.

African Blackwood (ABW) and plastic (polypenco / delrin) practice chanters are always in stock at Mitchell's Bagpipe centre. Some manufacturers now combine both ABW and polypenco on some of their practice chanter models. eg. ABW for the chanter part and plastic for the mouthpiece and reed chamber. This helps preserve the now limited reserves of genuine African Blackwood. Many so called ABW practice chanters and bagpipes from foreign sources, are acually wood that is dyed black to imitate African Blackwood and so lacks consistent tonal qualities from one shipment to another. A reason items from non- traditional sources are not stocked. Polypenco / Delrin is an engineering grade plastic with the same density and specific gravity as ABW so the product is often used for all sorts of musical instruments as well as in many fittings used in the North Sea Oil installations. Polypenco produces a very consistent product.

Practice chanters get wet inside if you're doing the proper amount of practice. To take a practice chanter apart grip the reed chamber in one hand and the ball at the top of the chanter section in the other. Do not grip on the chanter itself. See parts diagram below. Grip the ball firmly and pull or ease this away from the reed chamber. Be careful not to damage the reed when removing or refitting the reed chamber. Often the reeds get quite abused when the practice chanter is opened to dry out the bore and the reed itself. Never pull the blades when removing the reed. Never push the blades when re-inserting the reed. The reed should always be handled by gripping over the reed staple (the tube of copper or brass in the centre of the binding) and always as close to the reed seat (hemp end of the reed) as possible. Some reeds use electricians shrink wrap to hold the blades to the staple. Others use waxed hemp or even the same material as dental floss. Whatever it is, the rule of gripping over the staple and not on the blades is very important. You can apply shrink wrap over the hemp if that sort of thing appeals - just be very careful not to warm up the plastic blades. They can collapse rendering the reed useless.

If the reed you're using sounds flat, or is too noisy, try using a small orthodontists rubber band doubled around the blades as a bridle. These rubber bands are used on dental braces so your nearest friendly Orthodontist may prove useful for other than fixing up the alignment of your teeth or your children's teeth. You simply move the bridle up or down the blades to get the sound volume/pitch you like. Practice chanters supplied from us have a reed with a bridle fitted already.

Another tip is to clean the reed seat throat, and the finger holes with a pipe-cleaner. This helps remove a build up of dirt or gunk and keep the tone of your practice chanter clear and it helps dry out the moisture from accumulated condensation. Special grommets can be used around the reed staple area to absorb moisture. A rolled tissue can do the same trick. If your practice chanter isn't getting wet - you aren't doing enough practice! When drying the reed after removing it from the reed seat - please don't squeeze it to push the moisture from between the blades into a tissue. Gently place the end of the blades against a tissue and blow through the staple end. Don't use a hair drier, a fan heater or leave the reed in a hot sunny location. The blades are only plastic and they will collapse making the reed useless. If handled with care plastic practice chanter reeds can last for years.

The polypenco models of practice chanter seems to accumulate moisture more readily than the ABW models. However they all get wet so drying out the bores and the reed chamber is a regular task. Tissues do the job well but periodically wash the internals with luke warm soapy water to which drop of a mild disinfectant has been added. It is possible to get very fine bottle brushes to get into the bores, but as mentioned before, pipe cleaners are good for the very narrow throat in the reed seat and down into the bore behind the hi-A and down to the E hole. ABW practice chanters can benefit from a very sparing applied lick of almond oil (obtainable from your local chemist or pharmacy) once every 6 months to a year.

Oh and one other thing. When you've finished your practice, or even just interrupted it to answer the phone or go to dinner. Please put it down somewhere safe. Not on the sofa or seat where it will be sat on. Or on a table where it will roll off, or on the carpet where someone will stand on it. You might even do that yourself! Nor on the top of a heater, on a sunny window sill, or on the dash board of your car. Murphy declares those places are perfect for mishaps to occur. He also likes pets that chew up reeds or chanters, and babies or toddlers just love pulling things apart and chewing on the soft plastic they find inside. Another reed gone west might be the minimum damage, the worst might be a totally crushed and broken practice chanter.

And one more thing. Toddlers like blowing and dribbling down a practice chanter - just like dad or mum, or older brother or sister, but be aware if they trip over while wandering around and the practice chanter is in their mouth, or near their face, they could easily end up with some serious injury. So a firm rule should be, none of that for the toddler.


What length Practice Chanter?
Childs size: These are really for children with small hands and usually by age 10-12 they will outgrow this size.
Adult or Standard size: These have been around for hundreds of years and are still perfectly good. They're actually better for stowing away in a travel bag than the newcomer 'Longspan size'.
Longspan size: The chanter section of these approximates the length of a full pipe chanter and the holes are much closer with finger hole spacing to match the bagpipe pipe chanter. However they are still not exactly the same. These also need taking apart when stowing unless you only stow them away in your pipe-box. Some folk use these as a small-pipe chanter. The ABW versions can be about as expensive as a full bagpipe chanter. They're fashionable if being in the 'trendy' crowd is important to you and some Pipe-Majors do recommend them. MacCrimmon didn't have one as they only appeared in the late 20th century, so the choice of standard or longspan length is entirely up to you. (Did you ask who MacCrimmon was?)

Parts of a Practice Chanter.

__1. Mouthpiece (usually detachable on ABW models, often not on polypenco models) fits onto 2.
__2. Reed chamber section. Fits over (6) and protects the reed.
__3. Reed. (other styles are shown, including an ancient cane practice chanter reed).
__4. Chanter section.
__5. Sole. Often absent on polypenco models.
__....... Once made from ivory, now imitation ivory or metal, horn, silver etc.
__6. Hemped pin. The yellow linen hemp thread can be waxed. The reed seat is in the centre of this pin.
__7. This is the ball that must be gripped when taking apart a practice chanter.
__....... Never grip on the chanter (4) and twist or bend it - unless you want to break it.
__8. Ferrule, usually of imitation ivory, nickel silver, silver, s/steel. Often not on polypenco models.
__....... Originally was to stop wood of reed chamber from cracking and splitting.

This page is here to inform and indicate the range of bagpipe practice chanters available.
You can visit the manufacturers sites for options but a good range is held here in NZ.
If the particular model you want isn't here, it can be obtained for you.
All are from Scotland, Nn. Ireland or Canada. Pakistani models are NOT sold here.
NZ $Prices are NOT available online on this web-site.
Request prices by e-mail

Dunbar Practice Chanters. (On page link) ....... Dunbar Polypenco PCs (Off site link) ....... Dunbar (ABW) African Blackwood PCs (Off site link)
MacPherson Practice chanters. ......Hand crafted by Douglas MacPherson. These are for the discerning learner or piper.
Sales are made by personal contact. Call in map (by appointment), phone (07) 827 6906 or e-mail me and we start from there.
Payments by plastic are not possible, so this page does not shove you into a "shopping or sales cart" mode.
Purchases can be made using cash, personal cheque or direct bank deposit.
Select the category for your inquiry by row, and then click on the cell, or simply scroll down the page.
| | | | | | | | |
| --- | --- | --- | --- | --- | --- | --- | --- |
| Bagpipes | | | | | | | |
| Bagpipe Accessories | | | | | | | |
| Maintenance Accessories | | | | | | | |
| Learners | | | | | | | |
Request a Price List - Available ONLY within NZ.
Only a selected range from the practice chanters listed below is actually held in stock.
Dunbar Practice Chanters. Back



Dunbar Poly Practice Chanters
Dunbar African Blackwood Practice Chanters

MacPherson Practice Chanters. Back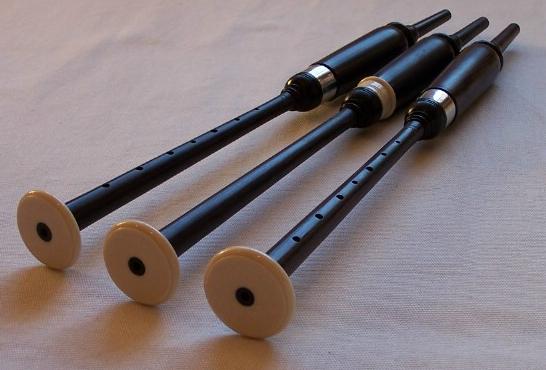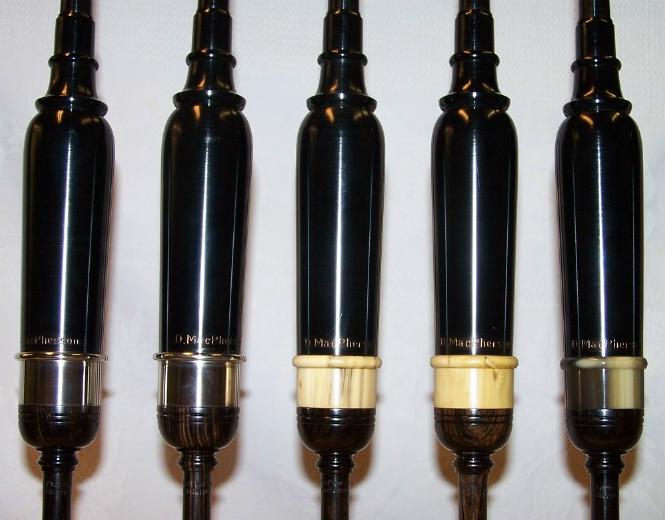 MP09 - Standard Length Practice Chanter. ABW, nickel ferrule, imitation ivory sole.
MP10 - Standard Length Practice Chanter. ABW, imitation ivory ferrule and sole.
MP11 - Standard Length Practice Chanter. ABW, sterling silver ferrule and sole.
MP12 - Longspan Practice Chanter. ABW chanter, Poly reed chamber nickel ferrule, imitation ivory sole.
Douglas MacPherson can hand craft to your specifications.

Shepherd Practice Chanters. Back




Shepherd Polypenco Practice Chanters.
.. L/2 Standard length polypenco, without mounts.
.. L/4 Childs length polypenco, without mounts.
.. L/10 Longspan Polypenco, plain.
Shepherd ABW Practice Chanters.
(The popular L/5)
.. L/5 Standard length ABW with nickel ferrule and imitation ivory sole.
.. L/6 Standard length ABW imitation ivory ferrule and sole.
.. L/7 Longspan ABW chanter, Polypenco reed chamber, nickel ferrule and imitation ivory sole.
.. L/8 Standard length ABW with silver mounts.
Sundry accessories.
.. R06 Shepherd Practice chanter reed.
.. AJ2 Shepherd practice chanter mouth-piece only.
Wallace Practice Chanters. Back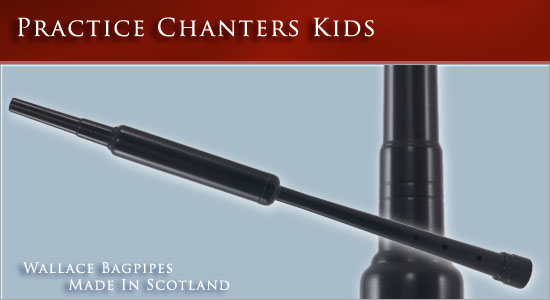 .....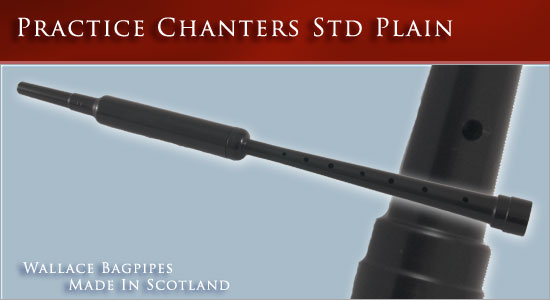 .....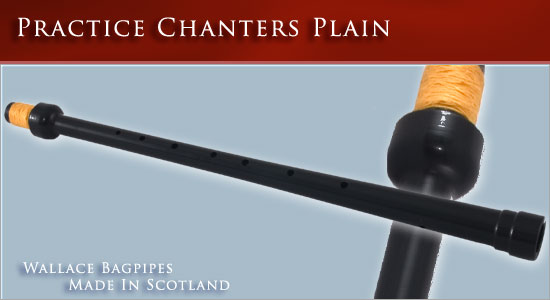 Kids: Polypenco, plain for young childs hand size. Adult: Standard length, polypenco, plain. . . . . . . . Longspan, polypenco, plain,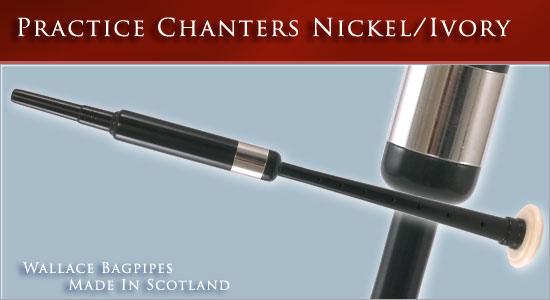 .....

Adult: Polypenco or ABW, mounted. Std. length,. . . . . . . . Longspan, polypenco or ABW, mounted.
Wallace Polypenco Practice Chanters can be plain or have nickel ferrule and imitation sole, or imitation ivory ferrule and sole.
Wallace ABW Practice Chanters, have an imitation ivory ferrule and sole, and a polypenco reed chamber.


Warmac Practice Chanters. Back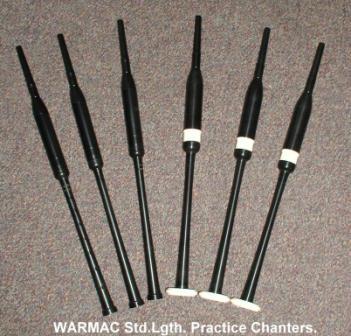 Warmac Polypenco Practice Chanters.
.. No.1 Childs, plain polypenco, childs length. ie under 10 fingering size, for small hands.
.. No.2 Childs, polypenco, nickel ferrule, imitation ivory sole.
.. No.3 Standard length, polypenco, plain.
.. No.4 Std. lgth. Nickel ferrule, imitation ivory sole.
.. No.4b Std. lgth. Imitation ivory ferrule and sole.
.. No.8 Std. lgth. nickel ferrule, imitation ivory sole, tuneable.
Warmac ABW Practice Chanters.
.. No.5 Std. lgth. ABW. Imitation ivory ferrule and sole.
.. No.6 Std. lgth. ABW. Chased silver ferrule, sole and mouthpiece tube.
.. No.7 Longspan ABW, countersunk holes, nickel ferrule, imitation ivory sole.
.. No.9 Longspan ABW, countersunk holes, imitation ivory ferrule and sole.