| | | | | |
| --- | --- | --- | --- | --- |
| | | | | |
| | Waikato | Irish | Club | |
| | | | | |
The Waikato Irish Club (Inc) is centred on Hamilton, the major city in the Waikato region of NZ's North Island. Activities are organised for young as well as older members. It facilitates the active promotion of Irish culture for younger members and encourages participation in Ceilidhs, music making, Irish national dancing, Rose of Tralee events and other Irish and Celtic cultural initiatives.

Notice board of Meetings and Activities:


Christmas Lunch



Picnic



Murder Mystery Dinners



New Zealand Irish Directory 2003,4. A recent publication, this is "A guide to most things Irish in New Zealand" and is available free. The publishers web-site is at http://www.ireland.co.nz



Irish Dancing Classes. Lorraine is an Irish Dancing teacher providing classes in Hamilton. If you're interested call Lorraine on (07)856 4589.



NZ National Feis
There was a full programme of competitions and entertainment: Vocal and Instrumental (Singing, Instrumental, Ceili, Uillean-pipes), Gaelic Sports (Gaelic Football, Hurling Camogie), other sports (Bowls, Golf, pool, darts, Tug-O-War, Netball), Dancing (Reels, Soft/Slip/Hard Jig, Trad.Set Dances, Hornpipe and Set dance etc.., Speech (Poetry, Oratory, Drama). Plan your participation.



Celtic song and music sessions at Biddy Mulligan's Pub, in the late afternoon of every second Sunday of each month (next session 2nd Sun. this month, from 5pm). Bring along your person, your voice and your celtic musical instrument. These sessions are proving popular and now have an impetous that attracts a good group of friendly people. Everyone is welcome to join in.



Irish programme on local radio.
Community Radio 1206 has an Irish music programme every Thursday afternoon from 3 - 4pm, with Martha. On Sunday afternoons 2.30 - 3.30pm there is also a Celtic music programme with Jean Limmer.



More Shenanigans



Summer Picnic.



St. Patricks Day Members celebrated the National day of all who have an Irish and celtic inclination.
The Irish Clubs luncheon was a success. Prepare for a repeat performance next year.



Irish Bagpipes.

It has become obvious, that following the fame of the Uillean pipes due to the film "Titanic" some people do not realise the Piob Mhor is just as Irish as it is Scottish and that these pipes have a far older history than the Uillean pipes. What is a Piob Mhor did you say? Begorrah! It's the great pipe or the Irish War pipe! Originally, and even after WWII in Ireland, the war-pipes only had two drones, as they did in Scotland too during the great period of the MacCrimmon, MacKay and MacArthur piping families and schools. Eventually the three droned version of pipe (the main difference being the addition of another tenor drone - so there are two short drones and one long one, instead of one of each) took over because of piping competition favourism and rules. Basically, if you wanted to be in the prize money you had to have three drones. Most pipe bands in Ireland and Nn.Ireland now play on the three droned Piob Mhor so they too can have a chance to win some prize money. (And they do).
The Uillean pipes are filled with air by a set of bellows operated under one arm with the air bag of the pipes under the other arm. These pipes have a greater musical range than the war-pipes. However one of the notes and the stopping of the chanter requires the use of a leather pad tied around one leg above the knee. Therefore they are mostly played while sitting, and rest across the players lap. This means the Piob Mhor or war-pipe remains the mobile action man instrument. Both instruments have an integral part in Irish piping and music making. The tune "Brian Boru's March" is said to be the oldest known pipe tune still played on the Piob Mhor.
Why include this information? Well in one Irish pub some "Irish" folk were overheard to complain about the "Scots" taking over their national St.Patrick's day. They were referring to a Piob Mhor piper dressed in an Irish kilt of the Irish National tartan, and he playing Irish tunes 99% of the time. So they obviously needed educating. But would you try, after the person in need had been soaking the ale for a good part of the day? And would you believe it, in another Irish pub the piper was approached and asked, "how about playing some Irish tunes now?" after he had just finished a very recogniseable medley of tunes including: Paddy McGinty's Goat, Wearing of the Green, Minstrel Boy, Danny Boy, Back to Donegal, Molly Malone and more.. The pipers reply? Look Mate... if you can't tell I'm playing Irish tunes ye'd better drown yer heid in your own glass of Guiness. Which just goes to show - the blokes head was too big to fit, but more to the point - it's obvious people have forgotten Ireland's War-pipe is Irish too!. As is the "Erse garb" which is a term the old English used to refer to kilted attire, because it was worn by the Gael or Erse folk (ie Irish) of the Highlands and Ireland.
A huge faux pas was Mel Gibson's use of Uillean pipes for the theme tunes of the film "Brave Heart". Two reasons: 1). Uillean pipes are definately not Scottish. And, 2). they weren't invented at the time of Wallace or Bruce! It was a great action film but the piping faux pas and other tampering with history made the film historically less accurate than it could have been.
If you want to find Piob Mhor / Irish war-pipe pipers in New Zealand click here
If you want to find Uillean pipers in New Zealand click here

Waikato Irish Club Contacts:
President: Gordon Farrelly.
Vice-President: Vacant.
Secretary: Kathy O'Keeffe mailto:<P.C.J.BUIST@xtra.co.nz>
Treasurer: Marck Walsh
Committee: Paul Buist, Margaret Hellen, Mark Glyger, Ann Mills Aidan Murphy
Club postal address: The Secretary, Waikato Irish Club (Inc.), P.O.Box 558, Hamilton.

Membership:
New members are welcome. The Club has a Facebook page
http://www.facebook.com/WaikatoIrishClubInc
Clothing...
Irish tartans &
Irish Kilts for Hire: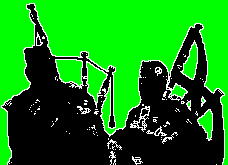 in Hamilton..If you're after hiring an Irish kilt and accessories visit the Mitchell Kilt Hire web pages

Irish pipers (Irish tunes on the bagpipes) Uillean Pipers
Supping...
Guinesss, Kilkenny..... with a congenial atmosphere and Celtic bands. Food too. at
Biddy's Irish pub in Victoria St., Hamilton.
This Waikato Irish Club web-page is sponsored by Mitchell Kilt Hire, authored by B.Mitchell. Upd.22/9/2002