Satisfy your interest in Celtic fabrics and past-times. You'll find such things as home, soft furnshing and upholstery fabrics. Wonderful fabrics, apparel and items from the Scottish Borders; Ruanas, cushions, scarves, hand and carry bags, rugs, mats and hangings, all with amazing age old Celtic designs. There are musical instruments such as harps and bagpipes, whistles and bodhrans, guitars, ukuleles. Leather accessories for Celtic attire (items can be custom made to your design). Chess sets and boards. We have books: Music tuition for harp, bagpipes, whistle, guitar, bodhran etc and for children plus interesting historical subjects. There are items that will endear themselves. Modern highland dress, kilts, jackets and other accessories
but Unicorns n Pheasants is NOT your usual 'Scottish/Celtic' shop.

We know the products we have for you MUST be seen to be appreciated.
Photos on web-sites just don't do them justice.
That's why you need to come into the shop to expose all your senses to them.
You'll find them far more stunning and appealing in "life", than in a photo.

Hours:
Mon: Closed,
Tues - Fri: 10am - 5pm,
Sat: 10am - 2pm,
Sun: Closed


Alba's....Unicorns n Pheasants
2371 Cambridge Road, Puahue RD1, Te Awamutu 3879, New Zealand
Phone: (07) 870 5242

In association with Mitchell Kilt Hire & Mitchell's Bagpipe Centre,
If you have a need for kilt hire, a wedding piper, a bagpiper, bagpipes, bagpipe reeds and accessories,
bagpipe repairs or repairs to Scottish leather items such as sporrans and belts,
or even shoes converted into ghillie brogues.
Alba's Unicorns n Pheasants will be able to assist.
| | | | | | | |
| --- | --- | --- | --- | --- | --- | --- |
| Scotland | Ireland | Wales | Cornwall | Man | Brittainy | Galicia |
If you're after any fo the following items or services, Alba's Unicorns n Pheasants can supply your wants or provide a solution through the services of our personnel. Whether it is for fabrics or accessories in the soft furnishings, upholstery or apparel ranges. Cushions rugs and throws. We have musical instruments such as harps, highland bagpipes or small-pipes, mandolins and whistles; even tone pipes and mallets, electronic musical instrument tuners. Plus accessories for bagpipes and bagpipers. There are beeswax products (candles & creams) and bottles of essences. Our apparel range includes silk, and silk & velvet, scarves and ties, Ruanas, shawls, hand-bags woven in Celtic patterns, and leather too. Including items like sporrans to go with kilted highland attire - kilts, jackets & belts. We have an eclectic mix of products you really might like browsing through. You could ponder over chess sets and chess puzzles or play us some music. If you're looking for the ideal wedding gift or accessory, we may have just the right thing. You may even find the leather or hide, buckle or strap you need.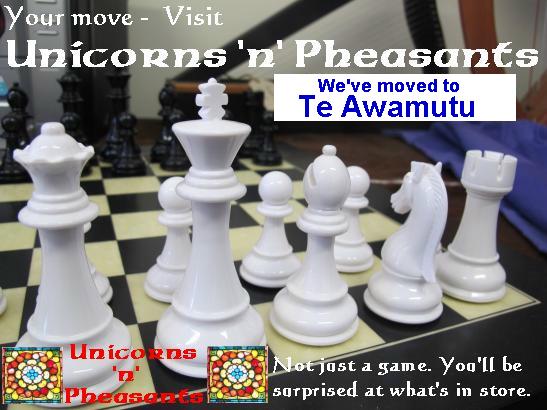 This is a VISITUS shop.
Come on in and absorb the atmosphere and view a unique combination of products.
Probably the only shop in NZ quite like this.

All images copyright.
Importers, Agents and Resllers of; Isle Mill and House of Edgar, MacNaughton, Strathmore, Lochcarron, Dalgliesh, Johnston's, Marton fabrics, Ladycrow silks & velvets, Jules Pansu cushions, Johnston's of Elgin products, Miss Tiffany massage waxes, Dal Rossi games, Brandname musical instruments, Denwar Harps, Bagpipes by Douglas MacPherson, Frazer Warnock, RT Shepherd, Wallace, Dunbar. Ross bagpipe bags and accessories, Moose bagpipe accessories. Celtic Art findings, Sheila Fleet and St Justin Celtic Jewellery.